European Honors Program
Castelvecchio, Italy 2019
EHP Chief Critic
Since 1960, RISD full- and part-time faculty from across the School have taken on the role of RISD in Rome's European Honors Program (EHP) Chief Critic.
The Chief Critic role is an excellent opportunity for any RISD faculty member to spend one full academic year in Rome and guide the cohort of 22 junior and senior students from all majors through their unique experience on the EHP program. The Chief Critic is responsible for EHP's studio curriculum, advises and guides students in the development of their studio work and consults, along with the Director, on travels and internships.

The Chief Critic is housed in an apartment within the ancient walls of Rome and is footsteps from the Pantheon; it is about seven minutes walk from RISD's site, the Palazzetto Cenci. The Chief Critic maintains a studio/office at the Cenci, is present daily for students, and becomes a part of the growing art community in Rome as they network to get to know visiting lecturers, critics, workshop leaders, and potential partners for the EHP cohort.

Today, Rome is a major, global city within the ever-changing and complex landscape of the EU and the Mediterranean, making it a fascinating place to be in residence for a full academic year.

Application for Chief Critic AY2021-2022 is currently closed, as RISD EHP remains suspended for the fall semester, 2021 due to the ongoing global COVID-19 pandemic. Read more in our announcement here.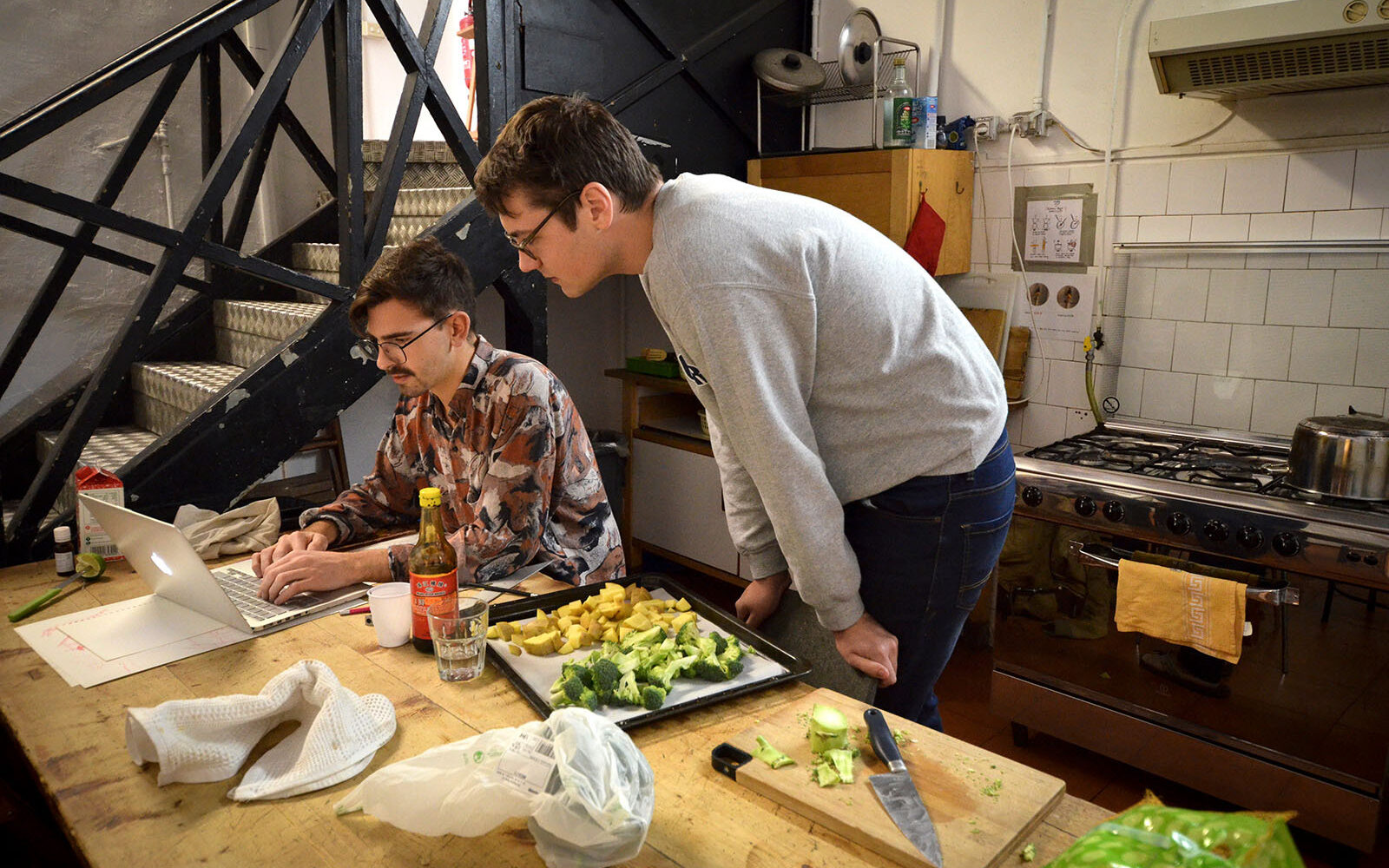 European Honors Program
Rome, Italy 2018
European Honors Program
Castelvecchio, Italy 2018
About the Chief Critic
The Chief Critic (CC) is responsible for two cohorts of EHP students: Fall and Spring. The CC oversees the EHP studio curriculum, which is 9 studio credits in the Fall semester and 12 in the Spring semester. They also supervise the group's general well-being.
European Honors Program
RISD in Rome's European Honors Program (EHP) is a pre-graduation art and design residency program that offers highly motivated and self-directed juniors, seniors, and grads the opportunity to live and study in Rome, a city infused with deep art history significance and pulsing with contemporary cultural life. Founded by RISD faculty members Gilbert Franklin and Jack Massey in 1960, the program was the first of its kind hosted by a US art and design institution in Italy. Franklin and Massey pursued the program after completing fellowships at the American Academy in Rome, an arts research institution that supports innovative artists, writers, and scholars living and working together in a dynamic international community. The founders aimed to create a residency-like environment for RISD students to learn and practice in the unique cultural and creative environment of Rome, as they had done at the Academy. RISD's EHP is now in its 59th year!
Benefits of the Chief Critic role
Opportunity to guide a group of students from across all disciplines at RISD, and in Brown's Visual Arts & Urban Studies concentrations
Challenge to shape two-semester long, residency-style academic studio programs
Chance to work with two unique cohorts of students and to support their engagement with their studio practices, with Rome, Italy, and Europe
Opportunity to participate in the Northern and Southern tours with the students and Ezio Genovesi, as well as to co-develop additional field trips with Ezio
Honor to work closely with RISD in Rome's esteemed Director, Ezio Genovesi, and the entire RISD in Rome team
Occasion to live, work and develop your own practice in the heart of Rome's historical center for an entire academic year

Chance to exhibit and present your work in Rome both at the Cenci and often upon invitation of Rome galleries and art spaces
Participate in, and benefit from, the dynamic art and scholarly world of contemporary Rome and Italy
Experience off-campus global learning teaching in a supported RISD environment
Contribute to RISD's long legacy of pedagogy and teaching at RISD in Rome
Further your own program leadership skills and experiences
With open ended prompting, we went out into the streets of Italy together, and found things out, performed, gleaned. The students were tasked to produce in ways that were site-specific, improvisational, collaborative. They showed up and were willing to reinvent themselves and the wheels of production time and time again…
Angela Dufresne EHP Chief Critic, AY2016–2017
After twelve years teaching at RISD, this was an opportunity to work with great focus on a single program, and to see students from a much richer range of perspectives: in the studio, the classroom, the kitchen, the street, and in multiple capacities in venues in Rome, and throughout Italy.
Mairead Byrne EHP Chief Critic, Fall 2013
Though there were still certain structural hierarchies, at EHP I moved beyond thinking myself as faculty, I entered into a kind of exemplar state; of artists living alongside other artists, enjoying our distinct privileges, challenging each other, giving support, and fostering an environment of intellectuality, experimentation, ethics, play and rigor.
Angela Dufresne EHP Chief Critic, AY2016–2017
Current & Past EHP Chief Critics
Anne Tate, AY19/20
Faculty, ARCH
A pioneer in sustainable planning for 20 years, Anne Tate leads various sustainability initiatives on campus. She is interested in the intersection of design and policy and served in 2003–04 as special advisor on sustainable development in the Office for Commonwealth Development (OCD) in Massachusetts, a post that combined the executive offices of environment, energy, housing and transportation. At the OCD she led two signature efforts: the Sustainable Development Principles and the Transit Oriented Development Initiative. With Doug Foy, Tate negotiated the settlement that unlocked development for 145 acres of prime waterfront land in Somerville, MA. She now co-chairs the Citizen Advisory Committee in Somerville. Her current project, Urban Eden, illustrates what our cities could be like if we were to build in partnership with nature.
Tate earned the AIAYoung Architects Award for Community Service and first place in the Progressive Architecture design competition for affordable housing. In addition to teaching at RISD, she has lectured at Yale, Harvard and Princeton.
Paola Dematte, AY18/19
Faculty, THAD
Paola Demattè is Professor of Chinese Art and Archaeology in the Theory and History of Art and Design department at Rhode Island School of Design. She holds a Laurea in Chinese Language and Literature from the Università degli Studi di Venezia and a Ph.D. in Archaeology from the University of California, Los Angeles. She has written on the origins of Chinese writing, pre-dynastic urbanism, archaic jades and funerary art and on Jesuits' activities in China. Prof. Demattè has also curated an exhibition at the Getty Center and co-authored an award-winning volume on Sino-European exchanges in the 16th through the 19th centuries (China on Paper, Getty Publications 2007).
Leslie Hirst, AY17/18
Faculty, EFS
Leslie Hirst is a visual artist who works in a variety of media to explore the meaning of materiality. Using found objects, she deconstructs the repetitive symbols and messages of everyday experience, then reconfigures, embellishes and elevates these objects to reflect the complexity of an interconnected world. Her compositions and installations suggest a type of mapping of the human environment, referencing street plans and passageways as a means for navigating an inhabited landscape. Hirst comes by these sensibilities instinctually, through her experience as a distance runner, as the elements of time and the traveled path form an indelible connection to the earth and a definition of "place."
Hirst has had solo and group exhibitions at Pavel Zoubok Gallery in New York City and has shown in group exhibitions at Islip Art Museum (NY), Weatherspoon Art Museum (NC), Hunterdon Art Museum (NJ), Maryland Art Place (MD), Kala Art Institute (CA), Delaware Center for Contemporary Art (DE) and Gregory Lind Gallery in San Francisco, CA. Internationally, her work was included in the VI Biennale di Soncino a Marco in Soncino, Italy and at the Center for Contemporary Art in Pont-Aven, France. Her honors and awards include the Rhode Island Foundation's MacColl Johnson Fellowship and a Fellowship in Printmaking and Drawing from the Rhode Island Council on the Arts. She has been a two-time nominee for the Louis Comfort Tiffany Foundation Award. Hirst's artist residency appointments include Yaddo, The Emily Harvey Foundation/Venice, VCCA, Centre d'Art Marnay Art Center/France (CAMAC), Blue Mountain Center, Ucross Foundation, Djerassi Resident Artists Program and Hall Farm Center for Artists and Educators. She has taught drawing, painting, printmaking and design since 2000 and has been a visiting artist and lecturer at several universities and institutions, including Bilgi University Istanbul, Turkey. She came to RISD in 2006, where she is currently associate professor.
Hirst has taught drawing, painting, printmaking and design since 2000 and has been a visiting artist and lecturer at several universities and institutions, including Bilgi University Istanbul, Turkey. She came to RISD in 2006.
Angela Dufresne, AY16/17
Faculty, PAINT
Angela Dufresne is a painter and video artist originally from Connecticut. She was raised in Olathe, Kansas, the town Dick and Perry stopped in before they killed the Clutters (In Cold Blood). She lives and works in Brooklyn, NY and sometimes can be found in the Catskills. She received the first college degree in her family lineage. Her work articulates non-paranoid, porous ways of being in a world fraught by fear, power and possession. Through painting, drawing and performative works, she wields heterotopic narratives that are non-hierarchical, joyous and polymorphous. She has exhibited at the Hammer Museum in Los Angeles; P.S.1 Contemporary Art Center in Queens, NY; the Portland Museum of Art in Portland, ME; the RISD Museum in Providence, RI; The National Academy of Arts and Letters in New York; The Leslie-Lohman Museum in New York; the Kemper Museum in Kansas City, MO; Brooklyn Academy of Music in Brooklyn, NY; The Cleveland Institute of Art in Cleveland, OH; The Aldridge Museum in Ridgefield, CT; Sarah Lawrence College in Yonkers, NY; the Rose Museum in Waltham, MA; Mills College in Oakland, CA; and Minneapolis School of Art and Design among others.
Dufresne received a 2016 Guggenheim Fellowship and won a Purchase Award at The National Academy of Arts and Letters in 2011 and a Jerome Foundation Fellowship in 1992. She won residencies at Civitella Ranieri Foundation, Yaddo, the Siena Art Institute and The Fine Arts Work Center at Provincetown and the Headlands Center for the Arts. She has an upcoming solo exhibition at the Kemper Museum in Kansas City (fall 2018), and she recently had a two-person show with Louis Fratino at Monya Rowe Gallery in NY (summer 2018) and a group show at A.P.T. Gallery in London (summer 2018). She will be included in a traveling exhibition curated by the Avett Brothers and Erik Fischl titled Piece by Piece spanning 2019–20. Her work is in the collection of the Kemper Museum of Contemporary Art, Kansas City, MO; Museo de Arte de Ponce, Ponce, Puerto Rico; American Academy of Arts and Letters, New York, NY; and Harvard Business School, Boston, MA.
Gabriel Feld, AY14/15 & AY15/16
Faculty, ARCH
Gabriel Feld is an architect, artist and teacher. A professor at RISD since 1990, he served as head of the Architecture department (1997–2002) and chief critic of the European Honors Program in Rome (2014–16.) He has also taught at China Academy of Art, Dessau Institute of Architecture, Universidad Torcuato Di Tella, Harvard Graduate School of Design, Boston Architectural Center and Universidad de Buenos Aires. His teaching includes design studios and lecture courses dealing with urban culture, as well as other professional, cultural and artistic concerns. His artwork—printmaking and installation—has been exhibited in China, Europe, the US and Argentina. His architecture practice both in his native Argentina and in the US has involved residential and institutional projects, large-scale affordable housing, industrialized construction, urban design and transportation. He received his Architecture diploma from the Universidad de Buenos Aires in 1980 and his Master in Architecture from Harvard University in 1988.
Henry Horenstein, Spring 14
Faculty, PHOTO
Born in New Bedford, MA, Henry Horenstein studied history at the University of Chicago before turning to photography. He earned his BFA and MFA from RISD with legendary teachers Harry Callahan and Aaron Siskind. Horenstein's more than 30 books include a recent memoir (Shoot What You Love), monographs (Histories, Show, Animalia, Honky Tonk, Close Relations, Humans and Racing Days) and some of the most widely used instructional texts in the field (Black & White Photography, Digital Photography, Beyond Basic Photography). His most recent work is in film/video. Funded by the Annenberg Foundation, his short documentary, Spoke, was screened at several festivals, including the Austin Film Festival. His current project, Partners: A Celebration of Choice, will premiere in 2018. Horenstein lives in Boston.
Mairéad Byrne, Fall 13
Faculty, LAS
Mairéad Byrne emigrated from Ireland to the US in 1994, for poetry. On the plane over, she read about the Internet for the first time. Diversity of poetic cultures and connectivity have defined her life ever since.

Byrne earned a PhD in Theory & Cultural Studies (2001) and an MA in American Poetry (1996) from Purdue University—home of the first Computer Science department in the US. Her poetry collections include Famosa na sua cabeça (translated by Dirceu Villa, Dobra Editorial, 2015), You Have to Laugh: New & Selected Poems (Barrow Street, 2013), The Best of (What's Left of) Heaven (Publishing Genius, 2010), Talk Poetry (Miami University Press, 2007), SOS Poetry (/ubu Editions, 2007) and Nelson & The Huruburu Bird (Wild Honey, 2003). Collaborations with visual artists include Jennifer's Family, photographs by Louisa Marie Summer (Schilt Publishing, 2012), Michael Mulcahy (Gandon Editions, 1995), Eithne Jordan (Gandon Editions, 1994) and Joyce – A Clew, with Henry J. Sharpe (Bluett & Co., 1982).

Byrne has taught at Purdue University, Ithaca College, the University of Mississippi and Marshall County Correctional Facility in Holly Springs. Since coming to RISD in 2002, she has designed and taught undergraduate courses in Digital Poetics, Material Poetics, Sound Poetry, Visual Poetry, and Contemporary Poetry, graduate courses including Writing as Art + Design and Writing+, interdisciplinary collaborative courses including Stories of a Living River (anthropology/poetry) and Dada Today (film/video/poetry), and Beginning and Advanced Poetry Writing Workshops. She has also served as chief critic in the European Honors Program in Rome. In June 2016 she received the John R. Frazier Award for Excellence in Teaching. She was recently awarded writing residencies at the Siena Art Institute (Italy), Cill Rialaig Artists' Retreat (Ireland), Seoul Artspace Yeonhui and Storyknife Writers Retreat on the Kenai Peninsula, Alaska.
Faculty Advising
Have questions? The RISD Global team is available to meet for an advising session to help craft your application.
Schedule an appointment
Explore: European Honors Program
European Honors Program
Rome, Italy 2018
European Honors Program
Rome, Italy 2018