European Honors Program
Rome, Italy 2018
European Honors Program
Founded in 1960, RISD's European Honors Program (EHP) is a unique art and design pre-graduation residency-style program that welcomes a select group of students from all RISD departments at RISD's site in Rome.
EHP's robust, self-directed multidisciplinary studio environment is designed to feed independent, experimental studio projects. In the Studio Elective and Concentration courses you'll make choices about the media, topics and trajectories of inquiry you explore, while benefiting from RISD's signature rigor and academic guidance provided by your Chief Critic.

The EHP studio experience is complemented by a liberal arts curriculum focused on Art History and Italian language and culture. The semester includes an unparalleled series of short-term field trips, including a week-long travel tour throughout Italy, as well as workshops and group critiques from visiting artists and designers—all integral pieces of the RISD in Rome experience. The EHP curriculum offers an opportunity to inhabit the life of an artist working independently in Rome, with RISD's support and resources.

The maximum enrollment per semester is 22 students and selection is competitive. Over 1200 EHP alumni now live and work around the world and many directly reference their time at EHP as extremely important to their development as makers. Apply the semester before you plan to attend. Prior to applying, we recommend that you attend an information session held on campus before completing and submitting your application.

RISD EHP remains suspended for academic year 2021-22. Please contact the RISD Global office to discuss possible alternatives for study in Rome.
European Honors Program
At-a-glance
When
Fall/Spring, 1 semester
Who
Open to RISD students, Brown University students
Application Deadline
Due to COVID-19, EHP remains suspended for fall 2021
Academic Credits
15 / 18
Instruction Language
Palazzetto Cenci: RISD in Rome
Rome, Italy 2012
European Honors Program
Rome, Italy 2016
History of EHP
RISD's European Honors Program (EHP) was founded in 1960 by faculty members Gilbert Franklin, Dr. Frank Deigman (Dean of Students) and Samuel F. Hershey (Chairman of the Division of Freshman Foundation), and under the direction of the School's President John R. Frazier. At the time, EHP was the first program of its kind hosted by a US art and design institution in Italy.
The founders pursued the program after completing fellowships at the American Academy in Rome, an arts research institution that supports innovative artists, writers, and scholars living and working together in a dynamic international community. They aimed to create a residency-like environment for RISD students to learn and practice in the unique cultural and creative environment of Rome, as they had done at the Academy. RISD's EHP is now entering its 6th decade!
Apply to EHP
RISD EHP remains suspended for academic year 2021-22. Please contact the RISD Global office to discuss possible alternatives for study in Rome.
View details
EHP Academics
EHP's transformative interdisciplinary nature is encoded into the fabric of the studio culture in Rome — it arises organically as you absorb, collaborate with, and are inspired by your peers, critics, and Rome itself.
View details
Some decisions in life are permanent and scary but never produce any regrets or doubts once they are made. The choice to get my ears pierced was like this, and so was enrolling in the European Honors Program.
Aaron Broadbent (PT 19) EHP Fall 2018
The highlight of my EHP experience was probably the freedom and independence I had to explore on my own, and I was so fortunate to live in the Cenci, in the heart of Rome...It's essential for any artist to place themselves beyond their comfort zone and live long enough in a new location to feel its essence.
Melissa Danitz (PT 19) EHP Spring 2018
My semester in EHP has changed the trajectory of my entire life, honestly. I feel very open to new opportunities in the art world that I wouldn't have considered before EHP, like museum and gallery curation and Art direction.
Brenton Duhan (Brown Architecture 20) EHP Fall 2018
RISD in Rome
Since 1960, RISD has maintained its site in Rome as a space for interdisciplinary exchange and immersive learning.
View details
EHP Planner
Apply for EHP the semester before you plan to attend. Eligible semesters: Junior Fall, Junior Spring, Senior+ Fall, Senior+ Spring, Grad Year 1, Grad Year 2+
Fall Semester 2020
Spring Semester 2021
January

Arrive in Rome

Attend EHP orientation

See EHP semester calendar

May

Final reviews & exhibition

Depart Rome
Explore: European Honors Program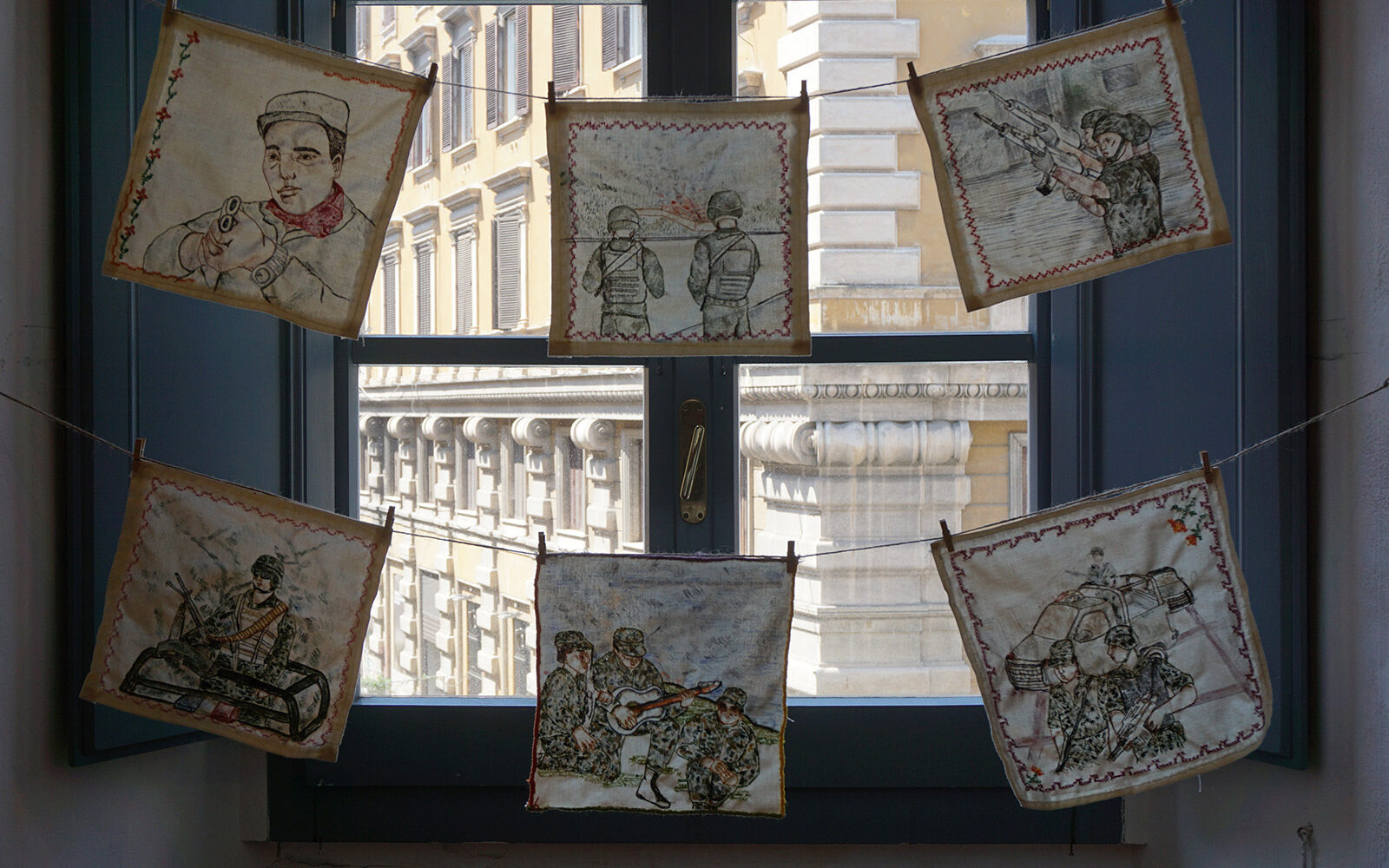 European Honors Program
Rome, Italy
European Honors Program
Castelvecchio, Italy 2018